Kavelle Anglin-Christie, Staff Reporter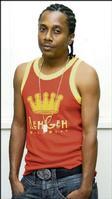 Left: General Degree displays the muscular side of his fashion line. Right: As he does in his lyrics, Degree also has something for the ladies in his clothes.
NO, 'REH GEH' is not the new spelling of 'reggae', nor is it a new musical genre. It is General Degree's new clothing line.
General Degree has long been known for his hit songs Traffic Blocking, Pianist and others, but says he recently felt the need to play a new tune.
"You know when you want to do something different and you are thinking about the future and that sort of thing? So I came up with the idea to do a line. I used to be a tailor and so it came naturally. I do mainly T-shirts, shorts and a capri thing going, so is mainly them things deh fi now," he said.
As proof of his talent, he spoke of his creations for his video, Inna.
"You see the part when me in the elevator wearing the Tweety bird thing? Is me do that enuh. People wouldda think is foreign it come from or something, but I made those," he said.
INTRIGUING NAME
Degree says he opted to name his line 'Reh Geh' because people would find it intriguing.
"It is the spelling that makes it different. It is not the typical reggae that everyone knows; it sound the same but spell different, so it catch everyone off guard. I am always playing on words, so it was just something that I wanted to do with my line ... it does not have anything to do with music. You will never see anything to do with music with this line," Degree said.
He says the colours are evidence of this: "People would expect that because of the name that the colours would be the typical red, green and gold, but I use up all the colours - white, black, red, pink - all of them."
He says the clothes are bought and printed in Brazil and the United States. "You already getting it from outside so why not get the whole package one time?" he asked.
SALES INCREASING
Degree says since starting the line, sales have been steadily increasing. However, though it has been a blessing, he says it is a lot of work.
"People will be coming and asking, but I won't always have the resources because it's just me right now. I am also still doing my music, so it is hard," he says.
Degree says although he puts a lot of work into his line, the clothes are not expensive: "Is mainly from $1,500 up. Still, the clothes are nice and well made and people are getting quality for money," he pointed out.
Though his line has not been launched officially, he says it is something that he has in mind for the near future.
"I want to do that when I have enough things ... something more than T-shirts, like some more dress up clothes," he said.