Shelly-Ann Thompson, Freelance Writer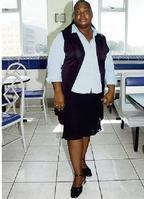 Peaches Richards has lost six inches off her waist in eight weeks by being on the sabbatical diet. - IAN ALLEN/STAFF PHOTOGRAPHER
Sabbatical diet: Eat like a king six mornings a week and fast on the seventh, for at least half a day when you are least active.
DIET SHEET:
For breakfast:
2 Irish potatoes
1 boiled banana
1 piece of chicken
a serving of callaloo
or vegetable
2 oranges
1 pack salted peanuts
glass of water
glass of fruit juice
OR
three slices of bread
1 egg
cup of tea
two oranges
unsweetened carrot juice
or any other fruit juice
glass of water
Additive: An Immunogizer light to re-establish and maintain balance for optimal health and function.
DR. ROBERT ROBINSON'S COMMENTS
Dr. Robinson, an internal medicine practitioner in May Pen, Clarendon, and at Apex Medical Centre, 2A Molynes Road in St. Andrew, promotes the sabbatical diet.
Dr. Robinson has been Mrs. Richards' consultant for the Flair diet challenge. He notes that she has been a very patient dieter. "She's very co-operative. She follows her diet as recommended normally fasting until 4:00 p.m. She also eats very well on the mornings she has to."
Mrs. Richards was given the Immunogizer additive to improve the health of the bacteria in her colon. This Dr. Robinson says, will neutralise the effects of the preservatives in her food.
In the first month she lost 14 pounds. Dr. Robinson explains that for the past four weeks Mrs. Richards has been losing more body fat than weight. This is a result of the shift from fat to protein in her body which will continue for another two weeks, and after which the body will re-set. "Then she'll lose about 15 to 20 pounds. Once she keeps on it she'll get the weight down to her ideal weight," Dr. says Robinson.
PEACHES RICHARDS' STORY
A wife and mother of four sons aged: 19, 17, 12 and two, Peaches Richards knows that her health is priority if she wants to be with her children for as long as possible.
Since being on the sabbatical diet she is happy to have reduced her waist measurement from 46 to 40 inches. Mrs. Richards is anticipating the better body she will have in a few months. "All my uniform skirt waists are big. Even the belt has gone through all the holes and is now loose. Even my tummy has become smaller.
"If no other part of my body has lost weight, my waist has," she said placing her hands against it to make her point.
FITTER, LIGHTER
Mrs. Richards is also happy that she is a fitter, lighter woman. She's able to move faster than she could, as this was a considerable concern for her. "I now have a small child and sometimes my energy level is so low I cannot participate enough in activities with him," she wrote in her entry letter to Flair. Now, the Portmore resident is able to do more work at home, and runs up the stairs at work. "It's not mind over matter. I am lighter and I don't feel so sluggish anymore."
Mrs. Richards says, being able to cook early in the mornings before going off to work is absolutely not a problem. "I have been doing it for years I'm used to it. Plus, I have four sons."
The diet works as it fits into her lifestyle; she enjoys morning cooking and having a heavy breakfast. She is not pressured to diet and she can eat anything she wants. "I'm sure happy I did it. I have tried other diets, there are restrictions in having what you want but this (sabbatical) is different. I can have ice-cream anything as long as I eat in the mornings."
Fact file:
Age: 40
Height: 5' 5"
Weight: 265 lb from 279 lb
Waist: 40" down from 46"
Body fat: 44.8 down from 46.7 per cent
Body Mass Index: 43.3 down from 45.7
Long term goal weight: 160 lb.