Mind and Spirit - Chatting with a Christian ROCKER
published: Saturday | January 1, 2005
Mark Dawes, Staff Reporter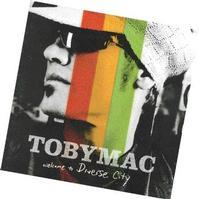 THE IDEA of a Christian rocker, is virtually an oxymoron. Rock music has long evoked imageries of rebellion and sometimes mayhem. But Christian rock music is increasingly growing in the United States. Its appeal not only reaches the faithful, but also those who just love the beat. Christian rock, has gone mainstream in the U.S.
Toby McKeehan, better known as TOBYMAC, who is both a solo artiste and a member of the Christian rock group trio, dc Talk, concurs that Christian rock has indeed moved from the periphery to the mainstream. He cites the Christian rock band, Switchfoot, as "blatantly Christian" and which is perhaps the biggest rock group in the US right now.
News reports out of the U.S. suggest that a seismic shift is taking place as many Christian rock groups are getting regular air play on secular radio stations.
IMPROVED MARKETING
But, says TOBYMAC, the success of these gospel acts has a lot to do with improved marketing and relationships artistes enjoy with record companies. "We all have our songs that can connect with the whole world not just the church. But it is a matter of writing those songs, marketing, and the right political alignments through record labels," he said.
But with the growing popularity of Christian rock, many would be interested in knowing 'Are people getting saved because of the music?' TOBYMAC believes that the music has served to affirm and challenge Christians towards a holy life and that it also facilitates a conversation about what it means to be born-again.
"My concert is not an event where you are going to hear an altar call. I am not a minister ­ I definitely am a musician. There is a lot of the entertainer in me. And there is a heart that does love Jesus. If you put a microphone in my hand in front of 5,000 people, I will have a hard time not telling them where my faith lies. So what I am saying is that if at the end of the day, people can leave that concert dialoguing about 'Who Jesus is,' 'What does He mean to you,' 'What does he mean to me,' then I feel I've planted the seeds I need to plant in my music," TOBYMAC said.
No stranger to Jamaica, TOBYMAC is married for the past 11 years to wife Amanda, who is the daughter of Judy and Robert Levy (of Jamaica Broilers fame). They have four children, two of whom are adopted. The family lives in Nashville, Tennessee.
TOURING
Christian musicians, like their secular counterparts often have to do a lot of touring. There is no shortage of Christian artistes, local and foreign, who have become involved in illicit sex while on tour. As a good practice, TOBYMAC advocates creating accountability systems. He said: "If you ask God to put people around you that will make you love Him more, He will. If you ask God to put people around you that will sharpen you, He will. He has been true to me in regards to that prayer. I have a management team, that does nothing but point me to Him. I have people that I take the stage with and every night they point me to Him. I have a wife that points me to Him. I have a father-in-law that points me to Him. I have a father that points me to Him. So I think in a powerful way, I have been insulated by people who love God and who care about me enough to tell me the truth ­ especially if my head is getting too big ­ they will tell me.
AWARDS
TOBYMAC and dc Talk have both received many awards. Dc Talk started out as largely hip hop in orientation and slowly moved on to rock 'n roll. Right now, says, TOBYMAC, it is "a fusion of hip hop" or "urban hip rock".
A gospel artiste for 15 years, TOBYMAC is promoting his second major solo album Diverse City which has so far earned him a Grammy nomination for best Christian Rock Album. Diverse City, he described as an album that blurs racial lines and brings everybody together, regardless of social differences. The album is just an invitation to people of all racial, cultural, and denominational backgrounds to commune
together.
His latest CD has subtle hints of Jamaican influence. The CD cover has emblazoned on it themes of red, green and gold, which he argues does not mean Rasta in the U.S., but it means Jamaica, and Jamaican music. Some of his songs, borrow a few Marley-like phrases ­ (One Lord, One Love), and it reaches its apex in Catchafire which is a fusion of rock and dancehall featuring himself and Papa San.
His previous solo album Momentum also earned him a Grammy nomination. As a group, dc Talk, earned four Grammy awards.
In addition to his career as a singer, TOBYMAC is also the CEO of his own 10-year-old record label Gotee Records which produces work for a wide range of music genres.
He is also an author. He and the other members of dc Talk have produced two books (Jesus Freaks Volume I, Jesus Freaks Volume 2) of short stories of Christians who helped to shape and otherwise revolutionise culture. His latest book, which is co-written with Michael Tait of dc Talk, is entitled Under God. It cites short stories ­ all historical, which shows how various Americans have embraced their spiritual heritage and in so doing have become heroes of the Christian faith.
JAMAICAN MUSIC
Being married to a Jamaican, and with regular visits to the island, TOBYMAC, is well immersed in Jamaican music, language and other aspects of local culture. When he is in Jamaica, he is a regular at some of the stage shows and concerts of both secular and gospel artistes. He has no plans to record a reggae/dancehall album. "I wouldn't want to fake the funk," he says. " I love Jamaica, I love the styles of music it offers. I like the people from here to do that (sing reggae/dancehall).
---
Send feedback to mark.dawes@gleanerjm.com.