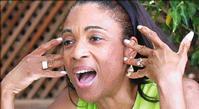 Pat Francis. - RUDOLPH BROWN photo
Mark Dawes, Staff Reporter
WHEN PAT Francis migrated from Jamaica to Ontario in the 1970s she was intent on pursuing her career as a radiographer. But destiny had different plans for her. She has become the Senior Pastor of Kingdom Covenant Center, one of Canada's largest churches.
In addition, she has international influence as her television
ministry 'Washed by the Word' is broadcast in Jamaica and
70 other countries spanning North America, Africa, Europe, and the Middle East.
Not long after entering Canada, Dr. Francis became involved in the various women's ministry groups. In one such meeting, the speaker did not show and it fell to her to preach that day. She did and it went over well. Before long, she was being asked to speak at many places. Godly people, she said, began to recognise that she possessed an anointing for preaching.
PREACHING AND TEACHING
Then, while still holding down her job as a radiographer in a Canadian hospital, she found herself travelling to speaking engagements overseas. She began a Friday evening Bible study in her home with 10 persons. This grew rapidly. After a while those who she was teaching asked her to become their pastor. She was hesitant, recognising that she had no formal ministerial training. But she prayed about the matter and then she gave up her job and became the full-time pastor for this congregation that had grown to 700.
She asked a few mature pastors to take her under their wings. "I went to several pastors to mentor me. But everytime I 'aggrieved' them so that the
jealousy came and they tried to 'kill me'. They tried to shut me up. They tried to give me Saul's armour. They said, 'You got to do it this way ­ this is the way we've done it all along'."
Undeterred by insecure pastors, she forged ahead. She said she knew God was not calling her to 'church as usual'. "I knew God wanted to do something new. It was not just about church. It was about the Kingdom of God," she said.
So without formal training she moved headlong into ministry. Eleven years later, she has a staff of 30 which includes seven pastors who help to give care to the more than 3,000 persons representing about 70 cultures who attend services on the weekend. Furthermore, her church operates more than 100 programmes designed to assist in the care of souls and the transformation of society.
FOR THE YOUNGSTERS
Early in her life as a pastor, she took 120 mostly unruly youngsters on a retreat where revival broke out. Many of these young people abandoned their weapons and destructive behaviour. Thereafter, for five years, Dr. Francis mentored these youngsters. She met with them every Sunday at 9:00 a.m. to motivate them, heal their souls, deliver their minds, and to impart biblical truth.
She became stigmatised as ''The pastor with the bad kids'. She happily boasts that her bad kids turned out good. Many were graduated from university and college and have become affluent. Their presence in the church has served to attract more affluent people to the fellowship, so much so that Dr. Francis now proudly declares: "My church is one of the most affluent churches right now."
Dr. Francis has strategised to influence virtually every major institution of society. In this regard, she said she has harnessed the wealth of talent in her congregation to transform government and politics, media, entertainment, education, and the justice system.
To illustrate, she said, her church recognised that the justice system was failing young people. She assembled lawyers and social workers in her church and came up with a plan. Instead of sentencing first-time and young offenders to jail, they urged the State to sentence them to community service at the Kingdom Covenant Center. This, she said, has been a resounding success.
TRAINING
It works like this: those sentenced are given work to do such as sweeping, dusting and painting the church. Then they are required to go through training related to: a psychotherapy, anger management, career counselling. They are assessed academically and encouraged to complete their education.
The church acts as a partner with them and as they seek employment and pursue re-entry into the formal educational system. Throughout this community service sentence, these young people are assigned mentors and are required to attend the major services of the church
­ in fact when attending church they are required to sign-in and sign-out.
Kingdom Covenant Center also runs a chastity programme where youngsters are encouraged to abstain from sexual intercourse until marriage. The programme, Dr. Francis said, has been reaping success. The youngsters are each given a ring, which they are told to wear on the fourth finger of their left hand ­ this is to remind them of the need to be chaste. They are also brought before the congregation where they vow to abstain from sexual relations until they are married. At marriage, they are encouraged to maintain their chastity and this is symbolised by transferring the chastity-ring to the fourth finger of the right hand.
REGULAR PROGRAMMES
Her church conducts regular programmes dealing with such matters as wealth creation, managing money, getting out of debt and earning money from the government. So successful has these teachings been that last year 120 of her members bought their own homes. "The church must be attractive to the harvest. The rich must be attracted to the church. The poor must be attracted to the church because we (the church) are the answer. If we are not attracted in prosperity and success nobody is going to want to come to church. For you to have the answer and the solution to anything in society ­ you need to have power. Our job is to make the church glorious so that people will be attracted to it. You are not going to have people with any brain in their heads come to a church that don't operate as if the brain is important," she said.
Dr. Francis, 50, is herself the president of several for profit companies. These include a call-centre, a financial services company, and a recording company. She is also president and founder of four charities: a Christian School; a school of Business and Technology and Music and the Performing Arts institute.
She accepted Christ as her Saviour at age eight. She grew up in the Mountain View area of Kingston and went to Alpha Academy, before moving on to the University of the West Indies where she was graduated after studies in Radiography. Though starting out in pastoral ministry without formal theological qualifications, she now holds two master's degrees and a Doctoral degree from the Christian Life School of Theology, Columbus, GA. She is at present a Ph.D. candidate in psychology. She is also a certified psychotherapist.
Six years ago Dr. Francis became the wife of Geron Sebastian, a medical doctor. They have no biological kids.
Though living in Canada for many years, Jamaica is still on her radar. She also has plans to develop an orphanage and a school in St. Elizabeth. But more immediately, she returns to the island October 18-25 with a 150-person
medical missions team, which will
operate at the Madge Saunders Conference & Retreat Centre, St. Mary. During that time she will also be speaking at events organised by Hands Across Jamaica for Righteousness.