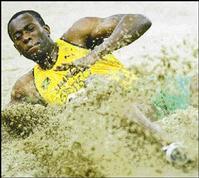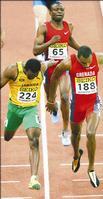 LEFT: James Beckford of Jamaica lands in the long jump event at the World Indoor Athletics Championships, in Budapest, yesterday. Beckford placed second with 8.31 metres. RIGHT: Alleyne Francique of Grenada (right) crosses the finish line to win the men's 400 metres event of the World Indoor Athletics Championships in Budapest yesterday. Francique won in 45.88 seconds, ahead of Davian Clarke (left) of Jamaica and Gary Kikaya (centre) of the Democratic Republic of Congo. -Reuters photo
BUDAPEST, Hungary, CMC:
ALLEYNE FRANCIQUE won Grenada's first ever global track and field title when he captured the 400-metre gold at the 10th IAAF World Indoor Championship yesterday.
Francique fought off Jamaican Davian Clarke down the stretch to win in a season's best 45.88 seconds, to pilot a six-medal haul by English-speaking Caribbean athletes on the second day of the three-day meet.
The day's action also produced two world record performances - from Russians Tatyana Lebedeva (triple jump) and Yelena Isinbeyeva (pole vault).
The 27-year-old Francique, who won CAC gold and Pan Am Games bronze last year, got to the 200-metre cross-over point just ahead of Clarke, and repelled a determined challenge from the Jamaican to become the first Caribbean men's champion at the World Indoors in nine years.
Clarke finished second in 45.92 seconds and Gary Kikaya, of Congo, took third in 46.30.
The region also medalled in the women's 400m race with Bahamian Tonique Williams chasing the Russians Tatyana Nazarova and Olesya Krasnomovets to the finish.
Nazarova won in a championship record 50.19, followed by Krasnomovets (50.69), and Williams, who logged a Bahamas national record 50.87 seconds.
Jamaicans James Beckford, Maurice Wignall and Germaine Mason completed the region's medal haul on the day although Mason was hospitalised after suffering an injury.
Beckford, the 1996 Olympic silver medallist, posted a season's best 8.31 metres to get second in the men's long jump behind American winner Savante Stringfellow (8.40).
LOWERED NATIONAL RECORD
Wignall lowered his national record to 7.48 seconds to get third in the men's 60-metre hurdles, won by defending champion Allen Johnson of the United States in a championship record 7.36 seconds, with China's Xiang Liu (7.43) second.
Mason, the reigning Pan Am Games champion, cleared 2.27 metres to share third in the men's high jump, as Sweden's Stefan Holm repeated as champion at 2.35m.
Attempting to clear 2.32m, Mason suffered an apparent foot injury and was taken to hospital. Russian Yaroslav Rybakov claimed the silver with a season's best 2.32m.
Lebedeva set a world record of 15.36m in the women's triple jump, in which Jamaican Trecia Smith finished fourth with a national record 14.71m.
There will only be one Caribbean representative in the 200m finals today.
Bahamian Dominic Demeritte, a bronze medallist last year in Birmingham, won his semi-final in 20.75 seconds, to be the second fastest qualifier, but Jamaican Juliet Campbell withdrew from the women's semi-final.
Campbell, the 2001 World Indoor champion, had advanced from her morning heat with a second place finish in 23.51 seconds, but withdrew from the final after feeling discomfort in her hamstring.