Victims of Sting - Frankie Paul, latest casualty
published: Monday | December 29, 2003
By Germaine Smith, Staff Reporter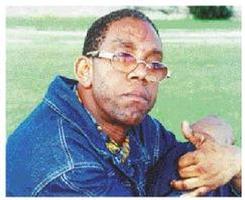 VETERAN ARTISTE Frankie Paul became the latest casualty on a growing list of celebrated artistes who got chased off the stage of the Sting reggae show.
Frankie Paul was chased of the stage just before 4 a.m., and joins a list which includes former Wailers member Bunny Wailer, Grammy winner Shabba Ranks, and international artiste Maxi Priest.
The veteran Paul took the stage just after Sanchez, who has not performed locally for seven years, was finished. He was never given the chance to sing however, as a shower of plastic bottles pelted the stage the moment MC Nuffy called his name and he stepped out.
Sanchez had worked for just under an hour, and the wait was apparently too long for some patrons. Towards the end of his set, someone threw one plastic bottle towards the stage. Inside the VIP area, others complained loudly that he was too long on the stage. "A lef him fi lef di stage now. Him a sing too r...s long now!" shouted one irate male.
When Frankie Paul stepped out, he did not resist the animosity, and quietly left the minute the hail of bottles descended on the stage. "Aaaright Jamaica we see!, we see! we see!" screamed Nuffy, hiding behind a giant speaker.
Frankie Paul was not the only artiste who got the treatment. Fiery dub poet DYCR, and German born Gentleman were pelted off the stage as well when the crowd felt they did not want to hear anything more from them. Gentleman, performing for the first time at Sting, dodged a few before leaving, while DYCR dodged several as he completed his short stint. Upon leaving he said; "Thank You Sting!" and the shower of bottles was replaced with a roaring bout of laughter from the heated audience.