Cuba's 12th try to end embargo
published: Saturday | October 25, 2003
By Claude Mills, Staff Reporter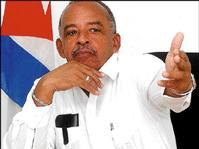 Cuban Ambassador to Jamaica Jose Piedra Rencurrell reiterated the intention of his country to challenge the United States' financial and economic embargo against Cuba in the UN General Assembly at a press conference held at the Cuban Embassy on Trafalgar Road in New Kingston, yesterday. - Junior Dowie/Staff Reporter
MAYBE THE 12th time will be the charm. During a press conference at the Cuban Embassy at Trafalgar Road, yesterday Ambassador Jose Piedra Rencurrell outlined his country's intention to once again submit to the consideration of the General Assembly of the United Nations in November, a draft resolution calling for the end of the United States' economic and financial embargo against Cuba.
According to the Ambassador, the 40-year-long embargo is a 'genocidal policy' responsible for 26 per cent of the staggering US$685 million in losses to Cuba's foreign trade in 2002, with US$178.2 million directly attributable to the embargo.
"The so-called embargo has seriously affected all of Cuba's economic and social sectors. Preliminary studies have proved that the total of Cuba's economic losses during more than four decades of embargo may already exceed $72 billion," he said.
EDUCATIONAL SYSTEM
The agricultural sector suffered losses due to the embargo totalling $108.5 million, and the ongoing embargo has also crippled the country's educational system according to the Ambassador.
Last year, 173 member states voted in favour of ending the embargo with three votes against, and four countries abstaining. The three countries who voted against the resolution were Israel, the Marshall Islands and the United States.
"The present, extreme right-wing Republican government has increased hostility and prohibitions of the embargo against Cuba, to unprecedented levels, ignoring the claim of the international community and even that of an overwhelming and growing majority within the US society itself, of changing that policy," Mr. Rencurrell said.
TRAVEL RESTRICTIONS
On Thursday, the US Senate joined the House of Representatives in approving legislation that would make it possible for Americans to legally travel to communist Cuba. However, the final version of the legislation will go to the Bush administration, which wants to enforce travel restrictions to Cuba and is likely to veto the measure. The four-decade-old travel ban, imposed by President John F. Kennedy in 1963, a year after the Cuban missile crisis, makes it a criminal act for most ordinary Americans to travel to Cuba.
The Ambassador chastised the US policy which he claims is aimed at 'subjugating through hunger and disease, a people who claim nothing more than their full right to self-determination and to defend their sovereignty, well-being and dignity'.
"The so-called embargo is a massive, flagrant and systematic violation of the Cuban people's human rights, particularly of the rights to health and food, which causes serious humanitarian consequences," the Cuban Ambassador said."
On March 24, one of the US government agencies tasked with enforcing the embargo (Office of Foreign Assets Control ­ OFAC) issued new regulations tightening the restrictions applied to US citizens wishing to visit Cuba, and the total elimination of permits for 'people-to-people' educational exchange and similar visits.