One-on-one with Peter Phillips - PART ONE
published: Friday | June 6, 2003
By Laura Tanna, Contributor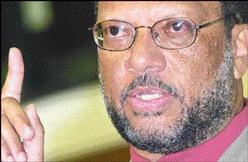 Dr. Peter Phillips, Minister of National Security. - File
BORN IN Kingston on December, 28, 1949, when his father, Aubrey Sylvester Phillips, was a lecturer at Mico Teachers' College and his mother, Thelma Limonious Phillips, a graduate of St. Andrew High School who had gone into the civil service, was working with Children's Services Division, Phillips always considered Manchester to be home.
"All four of my grandparents settled in Manchester. My [paternal] grandfather is from a little district called Blue Mountain of basically small farmers. My father's mother and my mother's parents were teachers. My grandfather ended up head teacher at Middlesex School in Christiana but was retired when I knew him. While my father was in Britain doing post-graduate studies, I spent a couple of years in Manchester with my maternal grandparents so that my earliest memories are really of there," said Dr. Phillips.
"I came back to Kingston when my father was again at Mico and I lived on the grounds of Mico to about age six. It was wonderful. The Jamaica of my childhood was a much more quiet Jamaica. My earliest memories are of going to what you would call then infant school, St. George's, opposite to where Gordon House is now. I'd either be dropped at school or take the bus. It was no problem to take the bus home from school, at four or five years old, without accompaniment. It reflects on a Jamaica that was much more peaceful and caring of children.
PRINCIPAL
"After that my father became the first principal of Moneague Teachers' College. So I was in Moneague between six and about nine, when he went again to the UK to finish his doctorial studies. The early memories of my youth were of wild, open rural spaces. Really I believe at that point I had woven into my own consciousness a deep attachment to Jamaica, its physical topography, the people who were always very caring and the sense of freedom. Any youngster who had the entire district to roam about, without any fear at all, to catch fish, to go and eat oranges, to stand up beneath a star apple tree and eat ripe star apples until you were sick"; - His voice trails off in memories, much as those of the corporate leader Karl Hendrickson, also of Manchester, and those of Bill Morris, the UK trade union leader from St. Elizabeth, when they spoke to me of their early childhoods.
Phillips recalls: "As an only child, reading was an important means of my own entertainment. While my parents were visiting other adults, I found whatever there was in whichever house and read it, so I read very widely, all the classic kinds of works. Later on I was introduced to and became attached to Caribbean literature. My father and mother used to spend a lot of time reading to me as a youngster, reading poetry, some of which I now read to my kids."
GOOD EXPERIENCE
He attended Moneague Primary School for three years and "had the free run of the College, as almost the ward of the entire student community, mainly women. To this day Moneague teachers will get in contact, send me letters, follow my career, offer advice, and generally just be in touch and offer me their prayers and goodwill. So that was a good experience."
His father had been a student at Mico where he shared rooms with Sir Howard Cooke, now Governor-General of Jamaica. Peter remembers Wesley Powell, founder of Excelsior School, Ivan Lloyd, one of the first Members of Parliament under the new constitution in 1944, U.C. Wolfe, J.J. Mills, part of the Mico establishment and uncle to Charles and Don Mills, people like that in his home discussing Jamaica and its future with his parents.
"This was a period of great nationalist ferment and my father was caught up in that with his generation, all of whom gravitated towards the PNP, which was the nationalist party of the period, of the intelligentsia. What you had was a situation in which these ideas of the development of nationhood, the commitment to devote your life to nation building, was like mother's milk imbibed at your dining table. My father's family really represented part of that deep rural peasantry committed to education in Manchester.
"Manchester is unique in a sense and this uniqueness is very significant in understanding the development of nationhood. It was a parish that never had sugar. It never had sugar. Even in the pre-slavery, pre-abolition, it was a parish that had been made up of a lot of small holdings in cattle, coffee and the like and in post-abolition those people basically established themselves as small holders. The whole family settled in this valley of Blue Mountain, Banana Ground, around there. There was a great sense of self, of independence, a great respect for the liberating powers of education and a great self-confidence that they were in fact persons who could achieve anything anybody else could. While at the same time I think having a great regard for things English. Norman Manley also came out of that parish. My father tells the story of Marcus Garvey, coming to D.D. Phillips, my great-grand-uncle, who was sufficiently notable that Garvey would have been interested as a black man to come and talk with him when he was organising his party."
VENTURES
"D.D. Phillips was one of the early JPs as a black man in that period, who got involved in all kinds of ventures, sent his children to Cornwall College, to Howard University, and knew the value of education. He was a man of great innovativeness, into all kinds of ventures, some successful, some not. He was involved in the building of the railway through Jamaica at the time and entered into things like trying silkworm farming, which never did come to much but which he embarked upon, along with other commercial ventures and eventually acquired land along the way."
In fact, Phillips' ancestors are quite fascinating. Peter's cousin Beverley A. Phillips, Assistant Registrar at the Norman Manley Law School, and family historian, told me that Peter's great-great-great grandfather, whom she referred to as the ''Hon. N. Phillips,'' was an English property owner who started the family's tradition in politics as a member of the House of Assembly. The property was then in St. Elizabeth as Manchester wasn't created until 1814. According to the family's oral tradition, his son Henry R.D. Phillips fell in love with the daughter of an Ashanti slave who would also become a slave but she was freed so that he could marry her, which caused him to be ostracised by his father. Henry "made himself a man" as the expression went, becoming a master-builder who designed the Wesley Methodist Church in Williamsfield, six miles east of Mandeville, and became so self-sufficient that when his father finally began speaking to him after 20 years, Henry refused to inherit his father's land and told him to divide it amongst all of his ten grandchildren. So Peter's great-grand-uncle David Daniel Phillips inherited a tenth of the estate as did Peter's great-grandfather.
UNUSUAL CHARACTER
D. D. Phillips was indeed a man of unusual character, becoming in the early 1900's chairman of the Parochial Board of Manchester, the equivalent of Mayor of the Parish Council today, of which he was a member for 60 years, and a Justice of the Peace who on occasion acted as Custos of Manchester. 'Justice' D.D. Phillips is perhaps best known for having, with Charles Jackson, created the ortanique plant which they originally called the ''tangelo'' as it is a mix of the tangerine and orange, but which locals in the area in the 1890s called 'prettie'. According to the Jamaica Agricultural Society, he exported to Panama, London, New Zealand and Australia and up to World War II, D.D. Phillips was the greatest employer for agriculture in Manchester as in addition to citrus he started the Irish Potato Growers Association and was involved in a host of activities with livestock, pimento, coffee etc.
Peter's grandfather, U.D. [Uriah Delapenha] Phillips served for 30 years as a Councillor of the Manchester Parish Council, as chairman of the Poor Relief Committee and doing everything from being a member of the Watershed Protection Committee to being chairman of the Eastern Manchester People's Co-operative Bank Ltd., chairman of the local Jamaica Agricultural Society branch, on and on. Although he never had more than a primary school education, because his own uncle was going to Panama to teach construction workers, U.D. Phillips obtained permission to go with him to work on the canal though only 16 at the time. Peter says:
"My grandmother told me stories of my grandfather coming to Kingston, working on the building of the Hermitage Dam, and having disputes with the contractors. How he left the job, went to Panama to seek his fortune there building the Panama Canal, got malaria, came back to Jamaica, and decided to settle down in his own agriculture after inheriting his father's lands. So there was a sense of self-confidence, a sense that they would be able to make life for themselves. He would sell pieces of land when it was necessary and ensured that all three of his children did get into college. My father to Mico, my uncle to Farm School as it was then called, Jamaica School of Agriculture located at Hope, and my aunt to Shortwood College. She married a Gentles out in Manchester/Tre-lawny and they were involved in agricultural pursuits in banana at the time and she became a teacher too."
CHILDHOOD
After his early Jamaican childhood, Peter lived in London, England ages nine through eleven, actually in North Finchley, while his father finished his Ph.D. in Educational Psychology at the University of London. The first year young Phillips attended a primary school, then went to Finchley County Grammar School, a mainly white English establishment with a few African students. He was the only Jamaican but felt very comfortable coming in the top fifth of his classes and being captain of the school cricket team. His most vivid experience of 1960-62 in the UK was: "As a member of the Scouts Troop travelling through rural British countryside, having the freedom to roam around with a lot of kids."
BLACK FOLKS
He noted: "The kids were all right but from time to time the parents were the problem, not wanting their kids to become too friendly with black folks ­ a VERY small minority I might add ­ but it nevertheless brought to attention that this phenomenon existed. It's hard as a nine or ten year old to understand it. This was mediated a little bit by the fact of my parents' love, so I got to encounter it without too much trauma.
"In the second year, I travelled through Europe with my parents for a month on this Eurail Pass: Rome, Paris - the Louvre, through Germany, Norway, a range of experiences through Europe and Scotland, Ireland and Wales. It made a considerable impression. The school instruction depended a lot on you doing independent work in libraries and museums. It was an exciting world because it allowed you, going through what was an English education in the origins of Western Civilisation - the classical period of Rome and Greece - you got a chance to see it and touch it, to go to the Coliseum, go through the Catacombs in Rome and the Vatican, go to Vesuvius and Pompeii, go up into Sweden and Norway, the whole emergence of the modern world in Europe."
Next: His Rastafarian years