Deputy Commissioner of Police Jevene Bent - Queen of the Constabulary
published: Monday | May 19, 2003
By TONY MORRISON, Contributor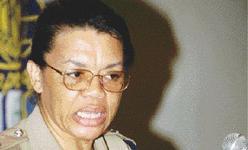 On May 1, Jevene Bent made history, becoming the region's first woman Deputy Commissioner of Police (DCP). Now in charge of the Jamaica Constabulary Force's (JCF) Administration and Support Services Portfolio, she notes that her appointment "means a lot, not just for Jamaica, but for the region. It is saying to women in the organisation that with hard work and dedication, you can make it." "I am only sorry that my mother and father, and my closest aunt are not here to share it with me, for they have always been my biggest inspiration." The profile below was written two years ago (but not published because of the spate of police murders at the time) by contributor Tony Morrison just after her historic appointment as Commanding Officer in charge of the JCF's extensive Area 5 section.
SHE HAS two Master's degrees under her belt, the responsibility of more than a thousand subordinates on her shoulders, the support of several interest groups at her fingertips and, some say, the future of the police force is at her feet for the taking, but the island's most powerful woman in uniform doesn't have the goal of being the first female commissioner on her mind.
Not yet, anyway.
"It's very lonely up there," says Assistant Commissioner of Police (ACP) Jevene Bent, adding that she has no personal ambitions in that direction right now. However, if the time comes and she thinks she is prepared, "...wherever the Lord leads me, I will go."
For now, though, her hands are full, what with her recent appointment as Commanding Officer of the extensive Area 5 section of the Jamaica Constabulary Force.
Area 5 encompasses the entire parishes of St. Thomas and St. Catherine, plus the St. Andrew North division of the Corporate Area. Not counting at least a couple hundred special and district constables plus civilian employees, this translates to more than 870 regular police officers under her command -- more than the entire armed forces of some small countries.
CONCERNS
All this calls for 17-hour workdays, but the good-natured Taurean still finds time to play occasionally, cooking herself a fish dinner, going to church and teaching Sunday school, and sit on a church board that oversees a 160-child infant school. Her concerns about women's and children's welfare have also led her to devote as much time as she can to groups like Women Incorporated and the Women's Crisis Centre. In her previous capacity as head of Police Training, she was also involved in introducing more instruction in domestic violence, conflict resolution, and victim's issues into police training programmes.
Such a heavy workload would be a daunting undertaking for almost anyone. However, the native of Rose Hall, St. Elizabeth, who as a child walked eight miles to and from school, credits much of her work ethic, independence, and strength of character to growing up in the austere yet bountiful rural environment of the parish which honoured her during St. Elizabeth Homecoming 2000.
"My parents and grandparents were not rich, but they were independent and they were proud people," she recalls.
She relates being taught at an early age that "hard work didn't kill anybody" and that "work was just a part of growing up." After school, in between games of netball and cricket she had to wash, clean, fetch firewood, cook, and plait straw. In those days children from the parish were well rounded, she adds. They
were taught to be self-reliant and had the strong survival skills one needed to face adult life.
As a youngster she raised her own pigs, goats and chickens, and recalls now that "my grandfather encouraged us to own things." Eventually she had enough pigs that she sold to assist her when the time came to enter Church Teachers' College in Mandeville. She did a short stint in teaching, her first love, before going on to wear the uniform of the JCF.
"One of the values taught to me by my grandmother and my aunt was that you should never allow yourself to become dependent on men."
QUIETLY CONFIDENT
Up close, she's down to earth, unassuming, and even shy but, have no doubt about it, this is a Grande Dame in a male-dominated profession. Driven and confident, the laptop-toting career cop is quietly self-assured about her own abilities and convictions.
"I look at policing as a career, as a profession. I take it seriously and personally. The thought of competition is always internal with me. I don't compete against others -- if I can do something today, I should be able to do it better tomorrow."
They say fortune favours the brave, and the start of ACP Bent's odyssey in the constabulary was not as difficult as it could have been for a bright young woman entering a bastion of men. She credits previous Police Commissioner Herman Ricketts for spearheading a move to abolish a system she and other female officers opposed in the 1970s -- a policy of segregation that kept female police officers in separate units, in training and on the job.
"Luckily for me there were quite a few women at my first station, Half-Way Tree, and so there was always a support arm there for me, including several women in senior positions who were doing extremely well."
It was one of these senior police women who once told the young constable, when she was fresh out of training school, that " your prospects in the organisation are good because of your background, so I want you to stay close to the Corporate Area where we can see you."
It turned out to be very sound advice.