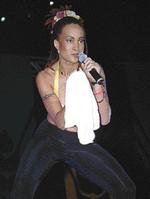 Hinds
Yolande Gyles, Staff Reporter
Hungry! in a word that's how you would describe Alison Hinds, the alluring front woman for top soca band, Barbadian Square One.
"I would really love to break out internationally. To get that real big break is my dream right now," said Ms. Hinds in a recent interview with The Sunday Gleaner.
With the recent success of Jamaican artistes like Shaggy, Beenie Man and now Sean Paul, Miss Hinds would love to see the same for soca acts. "You know what it has nothing to do with people understanding what you are saying, because look on a song like Faluma - nobody understands what it says, yet it was a hit. So it's all about the vibe, the beat, that's what sells. And I would love to see soca make it there," she said from the lobby of the New Kingston hotel where the band was staying.
However, from her assessment of the situation soca is not getting to the world, because of; "...the high level of piracy and the fact that there is no major record label signing soca. You know they aren't interested in soca acts, because they do not see us selling. And really all soca acts market themselves. We have to do the work."
Despite the challenges with the international market, the band, which celebrates its 16th anniversary this December, plans to forge ahead. Before putting out hits like DJ Ride, Faluma, Togetherness and Kitty Cat, they worked the hotel circuit in their native Barbados. "We started out as a young band with very old equipment. We had to rent some of our stuff and we played at hotels. Then we progressed to the clubs and bars and made enough money to buy our own equipment. By the time we went to the clubs our repertoire changed and we started to record our own music. Shortly after that we started to produce our own albums by putting our own money into it," said Ms. Hinds.
Once the band started recording their original music, they stormed the soca scene and have not let go. A major part of the band's success is Alison Hinds. She has energy, a vibe and a voice that grabs hold of fans and does not let go. So phenomenal is this woman that she has been called the West Indian answer to Janet Jackson. Yet she says that she was once shy.
"I used to imagine myself on-stage singing in front of thousands of people. Yet I remember one of my first experiences on-stage was at secondary school in Barbados and I was performing Ben (originally by Michael Jackson). I sang maybe the first couple of lines and then I went blank. I could not remember a thing," said Ms. Hinds.
Nevertheless she knew that she always wanted to be a "singer or a model. And to a lesser extent on the stage as an actor." So how does a shy person work on stage? "Well when I first joined the band people from school were like, huh? Alison in a band? She was so quiet - they didn't even know that I could sing," said Ms. Hinds in a jovial mood.
So how did she break out of her shell? "In the hotel circuits, you were doing instrumentals, then we would do maybe a couple of ballads. (At the hotels) we only used to play soca when were doing the floorshows. On the nightclub circuit the music was more lively, we were doing cover versions and we had to constantly be changing our routine. During that time I started to come out. Andy ('Young Blood' Armstrong - one of the other lead singers) was always out front, you know interacting with the crowd while I would hang back and then I just came out. That's what the crowd likes though. They like when you interact with them, when you talk to them, when you get off the stage, when you take them up on stage - they like that."
Ms. Hinds says proudly that her energetic performances come from the fact that she likes what she does and takes care of her body. "I enjoy what I do. I enjoy doing my music. The response of the people, the times when everything comes together. The band sounds good, I sound good, and the crowd loves it. Plus, I take like a ton of supplements, I am a vegetarian and I get tons of rest whenever I can."
Of all the hits Square One has had, the one that took them by surprise was Faluma. Once the song hit the air it became number one in every eastern Caribbean country, as well as one of the biggest soca hits of 1999-2000 in Jamaica. In Guatemala ­ a country where soca music is not popular - it spent 45 weeks at number one on the charts of a local radio station.
"I don't think any of us knew that Faluma would have taken off like that. I mean, that song just took on a life of it's own. We just could not believe how big that song became," said Ms. Hinds.
Sometime in the near future, Ms. Hinds will be putting out her solo album. "It will be different from what people are used to hearing from me, I won't do much soca because I don't want to compete with my band Square One," she told The Sunday Gleaner.
It is quite obvious that at the end of the day - no matter how big Alison Hinds gets, there will always be a Square One of which she will always be an integral part.
Square One will be performing in Negril today.