By Raymond Graham, Freelance Writer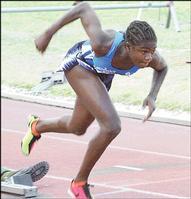 Aneisha McLaughlin ... Named most outstanding athlete of the meet - File
JAMAICA ended the 31st Carifta Games in a blaze of glory last night as they picked up 26 medals on the final day to bring their tally for the meet to a whopping 67.
The tally included 31 gold, 20 silver and six bronze. Finishing second were hosts Bahamas with 33 medals - six gold, 14 silver and 13 bronze, with Grenada third with five gold, 10 silver and seven bronze. Trinidad and Tobago were next with 18, seven gold, two silver and nine bronze medals.
Jamaica's Aneisha McLaughlin collected the Austin Sealy Award after being named the most outstanding athlete of the meet. McLaughlin produced record runs in the under 17 100m (11.48)and 200m (23.04).
It was overall a quality final day performance as the Jamaicans were in record breaking form with Holmwood Technical's Shaunette Davidson, Wolmer's Matthew Palmer and William Knibb's Usain Bolt all writing their names in the record books.
Jamaica put the icing on the cake in the final four events as they swept the 4x400m relays.
Pride of place went to Bolt who for the second time of the meet broke a record. Following his record run in the 400 metres on the opening day, the lanky Bolt was in no-nonsense mood as he smashed Darrel Brown's record of 21.20 seconds for the under 17 200 metres winning in an impressive 21.12. His team-mate Andre Wellington was second in 21.94 with Jamil Jones of Trinidad taking bronze in 22.02 seconds.
Palmer who took the 100 metres gold on the opening day returned yesterday to capture his second individual gold of the meet as he destroyed Patrick Lee's 2001 record of 13.20 in winning the under 17 100 metres hurdles in a new mark of 13.14.
Jamaica got their third record of the day when Davidson cleared the bar at 1.84 metres to take the gold in the under 20 girls high jump. St. Lucia's Lavern Spencer took the silver with a leap of 1.82m, the same height Peaches Roache did for the bronze. All three athletes went under the old record of 1.79m which was done in 1997.
Aneisha McLaughlin and Shandria Brown of the Bahamas both took the sprint double in the girls category. McLaughlin, following her record run in the heats of the girls under 17 200m on Sunday pulled away from rivals to win in a fast 23.04 seconds, Tavara Rigdy of the Bahamas took silver in 24.33 while Jamaica's Sherlene Duncan took the bronze in 24.37.
Brown gave the home team a lot to cheer for as she took the girls' under 20 200m in 23.56 to follow up her 100 metres victory on the opening day. Here Jamaica took silver and bronze as Tracey Ann Rowe was second in 23.98 and Melaine Walker who twisted her ankle the previous day after her 400 metres hurdles victory slowed down in the final 10 metres after aggravating her injury to take the bronze in 24.50.
Latoya Greaves, Kadian Beckford, Latoya Heath, Carlene Robinson, and Kimani Kirton all took gold yesterday. Greaves won the girls' under 17 100 metres hurdles in 14.14 seconds, Heath took the triple jump under 17 for girls with 11.58m, Beckford won the girls' under 17 800 metres in 2 mins 15.65 seconds, Robinson took the under 20 girls' 800m in 2 mins 09.5 seconds and Kirton took the gold in the boys shot put in 15.38m.
For the girls 4x400m under 17 Jamaican won in 3.44.18, Grenada were second in 3:46.23 and Bahamas third in 3:48.70.
In the boys under 17 event Jamaica won in 3:18.88, Bahamas were second in 3:21.22 and Grenada third in 3:27.32. The under 20 girls won in 3 mins 37.52 seconds, with Barbados second in 3:49.63 and the Bahamas third in 3:56.31. The boys 4x400m under 20 saw Jamaica winning in 3:09.21, Bahamas finished second in 3:12.97 seconds and Trinidad third in 3:13.37.
Other silver medal winners for Jamaica yesterday were Dwayne Robinson silver, 14.22 110m hurdles under 20 boys. Nadina Marsh 14.21 girls under 20 100m hurdles, Kay-Ann Thompson 2:09.81 girls under 20 800m and Jodi-Ann Richards under 17 girls 800m.