Luciano to speak at International Men's Day function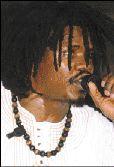 Luciano
Western Bureau
LUCIANO will live up to his title as 'The Messenger' this evening in St. Ann's Bay, St. Ann.
The singer will be the keynote speaker at the International Men's Day Fair and Concert, which will be held at Lawrence Park in St. Ann's Bay. The day's activities begin at 10:00 a.m.
Luciano's speech is expected to be in keeping with the International Men's Day Theme, 'Today's Man, Tomorrow's Future'. The day, and the week of activities which it is a part of, focuses on men's sexual health and reproduction.
"This is the first time that Jamaica will be observing International Men's Day. It was started in Trinidad in 1999. This year it will be observed in Kenya, Tanzania, Norway, Brazil, Germany, Britain and the United States of America as well," Nurse Bunnaman of the Beth Jacobs Family Planning Clinic in St. Ann's Bay told THE STAR.
Although November 19 is officially International Men's Day, activities related to male sexual health and reproduction will not be confined to today. The week of activities began yesterday with a church service at Northgate Family Church in Ocho Rios, St. Ann, and continues with an educational session with male students at Ferncourt High School in the parish. There will also be a public forum at Brown's Town Community College.
The educational sessions move to the Hilltop Juvenile Correctional Centre on Wednesday, November 21. Thursday, November 22 is open day at the Beth Jacobs Clinic, where medical check-ups and testicular checks will be offered free of cost.
Prostate checks will also be offered for a nominal fee.