Burrell to receive FIFA's highest honour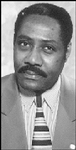 Burrell
PRESIDENT of the Jamaica Football Federation, Captain Horace Burrell, will receive FIFA's highest honour, the Order of Merit, in the presence of delegates from 203 countries at the FIFA Biennial Congress in Zurich, Switzerland, on August 4.
Burrell is the sole recipient from the Football Confederation (CONCACAF).
Burrell who is in his second term as president of the JFF is being honoured by FIFA for his oustanding leadership skills in piloting the Jamaica Football team to the World Cup Finals in New Zealand last year. He is also being lauded for developing one of the most efficient football administrations in the modern world of football.
A number of countries are said to have adopted the Jamaican model of development in their quest for World Cup Final qualification.
Burrell will leave the island this Tuesday, August 2, for Switzerland and is expected to return the following Monday.