Avia Ustanny, Oultook Writer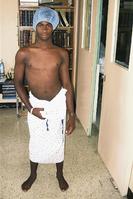 Courtney Barclay will soon be able to do all his favourite dance moves. The 10th grader from Porus High School in Manchester, has recently completed surgery on his back and not only is he inches taller, but he will be able to play any game he wishes to.
In late July, a team of doctors, including Doctors Mark Minott and Kingsley Chin, surgically corrected the spinal problem. Dr. Emanuel Boreland, the man responsible for coordinating Courtney's surgical miracle, notes that the young boy's spine was twisted into an 'S', so after surgery he became four inches taller.
Very happy now
"I am very happy now," says Gloria Grant for whom Courtney is one of nine grandchildren. "Before, I was just very sad that we would not be able to afford it. Now that the surgery is completed, it is costing a little, but the same God that help us to reach this stage will help us to finish. Thanks to God, RBTT, GraceKennedy, Jamaica National, the Seventh-day Adventist Church and a few other places, we have come this far. A whole lot of Jamaicans sent in what they had."
Courtney's experience is described for us by Dr. Kingsley Chin - orthopaedics and spinal surgeon:
The patient is a 14-year-old boy with a left idopathic thoracolumbar scoliosis. Scoliosis is curvature of the spine and is most common in teenage girls, so this case is more rare. Continued progression of scoliosis can be painful, disabling, and disfiguring for patients. Surgery is recommended for progressive thoracic curves usually above 45 degrees in a skeletally immature patient as in this case.
Curves greater than 20 degrees may be braced but there is no guarantee that bracing works consistently. This patient's curve was too large for bracing and, therefore, we chose surgery.
His scoliosis could have been treated with several different techniques. The least morbid for the patient would have been thoroscopic stapling of the thoracic spine with nitinol staples through a thoroscope. This technique uses small portals to enter through the chest cavity and avoids large incisions.
The technology was not available, so we chose to do an open posterior correction and fusion from the fourth thoracic vertebra to the second lumbar vertebra using pedicle screws, two titanium rods, and allograft bone chips and dimineralised bone matrix (DBM). The screws and rods hold the spine straight while the allograft bone and DBM solidifies over months to form a mass of bone to hold the spine straight for the rest of his life. Once the bone fuses, the screws and rods are obselete but we still leave them in place unless they cause irritation to the patient. He will always sound the alarm when he goes through metal detectors.
Challenges
The challenges were the lack of the optimum sized pedicle screws and the unavailability of the DBM. (Companies like) Stryker Spine donated the smaller sized screws and Osteotech donated the DBM to me and I brought those down to St. Joseph for the operation.
We did not have a cell saver to collect the patient's blood and give it back at the end of the operation so we had to meticulously avoid too much blood loss and to try and move through the case safely but rapidly.
There were other equipment that I am used to at the University of Pennsylvania that were not available, but we found ways to compensate without putting the patient at unreasonable risks. The details are not important.
The surgery took several hours as expected, but we achieved an almost straight spine."
Recovery
Dr. Boreland told Outlook that Courtney is now in the recovery stage which is supposed to take 16 weeks.
Courtney said, "I can wear merinos now. I used to have this big buff."
He dances. Now he will be able to do that even more.
Dr. Mark Minott states that more cases will be done soon. "We have quite a few lined up with similar curves. I have a very interesting one with another child. We will be using another technique to correct the curve. This technique is able to correct both the bend to the side and the rotation of the spine so that the appearance of the chest and shoulders will be normal."